How To Purchase The Right Swimsuit – The warmer weather has come, and it's time to take advantage of the sun and get tanned as much as you want. If you plan to head to the beach or book a resort escapade this summer, it's time to prepare your swimsuits. After all, you want to look your best as you take some fantastic shots to share on your socials.  
Don't worry about not getting your body weight goals this season. You can still flatter your natural body figure by rocking the right bikini, tankini, or one-piece bathing suit. Therefore, it's essential to know the best swimsuits available online. You can visit this site, shopjustice.com, or other sites that sell swimsuits and pick the one that would look great on your body. 
Before adding anything to your cart, read along for some tips on finding the right swimsuit according to your body type: 
Get Familiar With Your Body Shape
Naturally, women come in different body shapes and figures. And there's not one specific body type that should be better than others. When it comes to anatomy, every human being is unique and beautiful in their own way. What's important is to embrace your natural body and know how to portray them in the best way. Hence, when shopping for swimsuits from your favorite brands like Justice, it's best first to be familiar with your body form and shape. 
Finding the ideal swimwear for your body type begins with identifying your body shape. This is important because the truth is that some swimwear might not be able to highlight your figure as much as others. Your body shape determines how swimwear and clothing will fit you. Swimwear has to compliment your body features. When you know your body type, you can easily shop and find suitable garments that fit perfectly with your body.  
The first step is to take out a measuring tape and measure all around your body, starting with your shoulders, bust, waist, and hips. Measure your waist-to-hip ratio. But if you're not keen on doing the measurements correctly, you can read blogs or check videos online as references. 
You can determine your body type by comparing your measurements to the standard statistics. This will allow you to discover whether you have a pear body figure, an inverted triangle, a straight apple shape, or an hourglass body figure. By determining your figure, you can quickly start shopping for the right swimwear.  
Discover The Variety Of Swimsuit Designs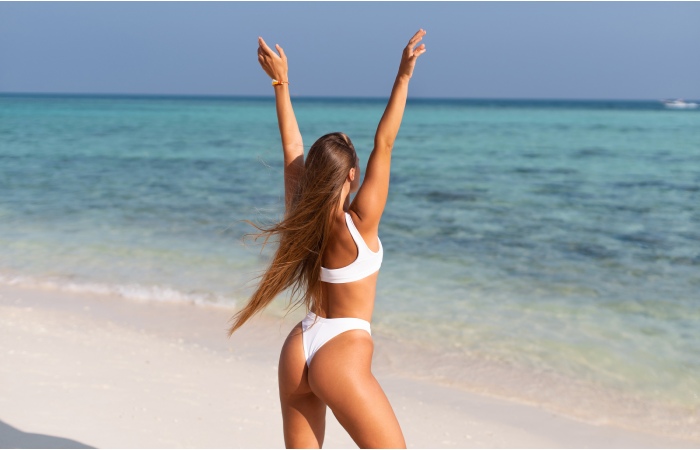 As much as it's important to find tips on how to dress in winter, you should also learn what types of swimwear are available for summer. After knowing your body type, it's time to discover the various types of swimsuits available today. There are numerous brands, colors, designs, and fabric types to choose from. It can easily get overwhelming to find the right one. Take note of the following swimsuit designs, which are pretty common in every store: 
A one-piece bathing suit always works to create the illusion of an elongated body figure. This helps give you longer legs and makes you appear taller and thinner. This swimwear will enhance your bust and give more attention to your neckline. They're also very comfortable to wear on any beach while doing various water sports. The key is to find one with reliable bra support, and you're good to go.  
Women who are blessed with smaller bust sizes can opt for monokini suits. Fortunately, many bikinis are perfect for smaller-bust women. You can go for a one-shoulder suit, string bikinis, or those halter straps. Incorporate other elements like floral patterns, mesh cloths, and other details to elevate its sexiness. For added bust support, you can always go for push-up bikini tops. This will also provide an illusion of a bigger bust. 
If you want to go for a two-piece swimwear but are not that comfortable wearing a bra top, the best alternative is to wear a tank top instead. The tankini swimsuit set is perfect for women who want more body coverage. Choose a set that complements your skin tone and makes you look stylish. Even when you flaunt lesser skin, you'll still look sexy and fresh when rocking a tankini swimsuit set.  
Conclusion
Discovering your body type and learning about the broad selections of swimwear available in the market will help you shop easier and conveniently for the perfect swimsuits. It's important to look your best even as you simply laze on the shore or perform water activities. Choosing the best swimwear will make you feel at ease and confident and look good for your next beach escapade.