Fashion is a major industry, and in 2023, revenue in the fashion market is projected to reach $768.70 billion. However, fashion trends change quickly, but elegance remains timeless. Filling your wardrobe with elegant pieces goes beyond simply following current fads. Rather, it should comprise timeless pieces that exude refinement.
In this blog post, we'll explore several wardrobe essentials that every fashion-savvy individual should have in their closet so they can effortlessly put together chic outfits for any occasion.
Pearl Jewelry
Pearl jewelry is a testament to timeless elegance and enduring grace. The mere presence of a strand of pearls or a delicate pair of pearl earrings can work wonders in elevating the overall charm of your attire. The beauty of pearls lies in their versatility; you can opt for the classic allure of freshwater pearls or embrace the contemporary appeal of baroque pearls.
Regardless of your choice, pearls exude an ageless sophistication that effortlessly enhances any ensemble. They are the perfect accessory for various occasions, seamlessly transitioning from casual to formal settings. Whether adorning a little black dress or complementing your everyday attire, pearls hold an esteemed place in your jewelry collection as they consistently radiate an air of refinement and timeless allure.
Tailored Blazer
A well-fitted blazer should be a staple in your wardrobe, an indispensable piece that exudes sophistication. Its transformative power is remarkable, capable of elevating any outfit in an instant. Whether you're aiming for a smart-casual look with jeans or dressing up for a formal occasion with a stylish dress, the tailored blazer effortlessly lends an aura of refined charm. Opting for classic colors like timeless black, deep navy, or versatile gray ensures that your blazer remains a timeless investment.
What sets a tailored blazer apart is the impeccable fit it offers. Consider having it expertly tailored to your unique body shape for the perfect silhouette. Beyond its sartorial finesse, a blazer contributes structure and polish to your ensemble, making it an indispensable style staple. It's the secret weapon that effortlessly transitions you from day to night, from the boardroom to a chic dinner outing, making it an essential component of a well-curated wardrobe.
Crisp White Shirt
There's something undeniably elegant about a crisp white shirt. It's a classic piece that can be dressed up or down, making it suitable for both work and weekend brunch events. Look for high-quality cotton or linen shirts with classic button-down collars to tuck into skirts or pair with tailored pants for an elegant, sophisticated look.
Trench Coat
The trench coat is a classic outerwear piece that oozes elegance. Trench coats have become timeless classics due to their design and neutral colors, making them the ideal complement for both casual and formal outfits alike. Wear it over jeans and ankle boots or drape it over cocktail dresses; either way, a quality trench coat adds sophistication while keeping you warm and dry.
Timeless Leather Handbag
Quality leather handbags are timeless investments. Choose a classic design in neutral hues such as black, brown, or tan for maximum longevity and functionality. A well-structured leather bag not only adds luxury and functionality but it can also be your life companion. It's the perfect accessory to complete your elegant look while carrying your essentials in style.
Classic Pumps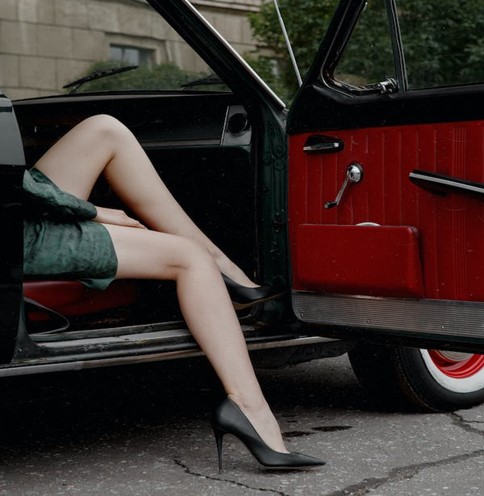 A pair of classic pumps is the epitome of elegant footwear. Choose a style with a modest heel, pointed toe, and a neutral color like black, nude, or metallic. These shoes elongate your legs and complement a wide range of outfits, from dresses to pantsuits. Invest in high-quality pumps that provide comfort and durability, as they'll become a staple in your wardrobe.
High-Waisted Trousers
High-waisted trousers are not only stylish but also incredibly flattering. They cinch at the narrowest part of your waist, creating an hourglass silhouette. Choose a well-tailored pair in a versatile color like black or navy. You can wear them to the office, for a casual weekend brunch, or even dress them up for a formal event with the right accessories.
Silk Scarf
Silk scarves add an air of luxury to any ensemble, whether worn around your neck, tied on your handbag, or styled as headbands. When it comes to choosing the ideal scarf for yourself, look for classic patterns or solid colors that go well with your wardrobe. It's a versatile accessory that not only adds elegance but also provides warmth and a pop of color when needed.
Timeless Sunglasses
Sunglasses are more than just eye protection; they're a style statement. Invest in a pair of high-quality, timeless sunglasses that suit your face shape. Classic designs like aviators or cat-eye frames never go out of fashion and can effortlessly elevate your look. Plus, they offer the practical benefit of shielding your eyes from the sun.
Final Thoughts
Building a wardrobe with elegant pieces does not involve following fleeting fashion trends. Rather, it involves curating timeless pieces to form the basis of an elegant and sophisticated style. Whether it's pearl jewelry, a trench coat, or silk scarves, with these pieces in your closet, you'll have the versatility to create chic and refined outfits for any occasion, ensuring that your fashion choices always reflect your timeless elegance.