Gemstones to Consider for Engagement Rings – Engagements are one of the most cherishable moments in a person's life. It is a sign of love and commitment between two people looking forward to building a future together. An engagement symbolizes a promise from one person to their partner. Hence, it is a sentimental ornament for many.
While most engagement rings carry a diamond as its focal point, it is possible to have other gemstones as a part of engagement rings too. Of course, it does ultimately depend on a person's personal preference, but when deciding on one, it is helpful to look at what other unique gems have to offer. If you've never considered any other gemstone other than diamonds for engagement rings, now's the time to take a further look. To help you out, here's a look at the best gemstone options to consider.
5 Best Gemstone Alternatives for Diamonds in Engagement Rings
Tanzanite: Tanzanite is a rare beauty in the world of gemstones. Similar to diamonds, these are also in high demand for different ornamental requirements. The gem carries a beautiful shade of blue which will be unique for engagement rings. When you look at Tanzanite rings, you will see how it shines and the elegance they can give a simple design. The way Tanzanite presents itself is a clear sign that it is a top alternative for diamonds in engagement rings. If you present your loved one with one of these, trust us, it will be a unique treasure they can cherish in their lives as a symbol of your love.
Aquamarine: Aquamarine is an elegant gemstone with a unique shade of transparent blue. It is a subtle gemstone but is also capable of being a unique addition to different engagement ring designs. If your loved one is open to an engagement ring that doesn't hold a diamond, an aquamarine ring can work beautifully for this occasion. You can ask your local jewelers to customize them based on the design that will make a mark. Aquamarine is a one-os-a-kind gemstone option to consider on engagement rings to symbolize a long-term commitment.
Sapphire: Another blue gemstone that works uniquely for engagement ring designs. Sapphires are one of the most exquisite gemstones in existence and one of the most valuable ones. Their beauty and shine are one of the best things which make the gemstone perfect for engagement rings. If you're looking to present an engagement ring to a loved one who loves a unique color ornament, a Sapphire ring is a perfect way to showcase your love for them. When buying one, you can ask your local jeweler about the best ways to turn loose gemstones into beautiful rings for your engagement.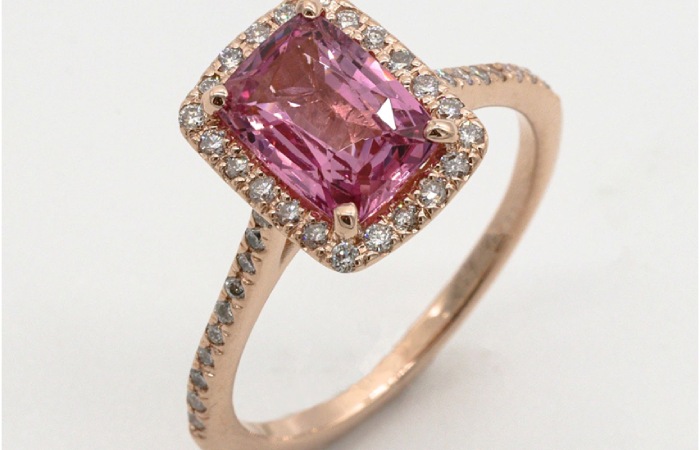 Ruby: Rubies are one of the most valuable and eye-catching gemstones we can come across. The beautiful shade of deep red is one to watch out for and is also worthy of some unique engagement rings. After all, red is known to be the color of love. Won't it be beautiful to show your love to your partner through a Ruby engagement ring? Not only will the ornament mark a crucial step in your life, but it will also symbolize the commitment you want to hold with the known color of love. Hence, if you're open to a different gemstone for an engagement ring, consider Rubies as a priority option.
Morganite: Morganite is an underrated gemstone with a shade of a unique orangish pink. Many people would not think of this as a choice for an engagement ring, but if you think about it, you will see how well it would work. The unique colors of the gemstone will make an engagement ring stand out beautifully, allowing your loved one to cherish it in every moment. You can pair the gem with gold or silver based on your preferences, and see the magnificent result in front of you. Presenting a Morganite ring on your engagement is an excellent way to mark your commitment for the long haul.
Endnote
Engagement rings are treasures that symbolize love and commitment. Hence, they must have a uniqueness to them that stands out from any other ornament piece. When choosing an engagement ring to present to your loved one, you can look beyond the classic diamond, and choose a unique gemstone that will shine bright for this moment. If you need any help, feel free to use this list to see which gem will work best for your next milestone in life.