Do you want to practice short nail designs or nail art but have short nails? These designs are often designed for nails with a lot of space, but many more straightforward options will help you express your creativity no matter the size of your nails.
Girls with short nails also have thousands of designs to show off well-groomed and beautiful hands. It includes many details to make the nails look beautiful, and following nail art trends is unnecessary. The following article shows you straightforward and original designs for short nails. Do not miss it!
What Color Short Nails Designs Look Best?
It depends on the style you go for, although, in general, the nude and light pink range is always a success because it achieves versatile and elegant manicures. However, any trendy or timeless color can be applied to short-nail manicures, like red, black, brown, plum, orange, or green.
Of course, when showing off more striking colors, such as fluorescent colors on short nails, it is best to opt for discreet designs, such as French nails or decorations with minimal details.
Easy to do Short Nail Designs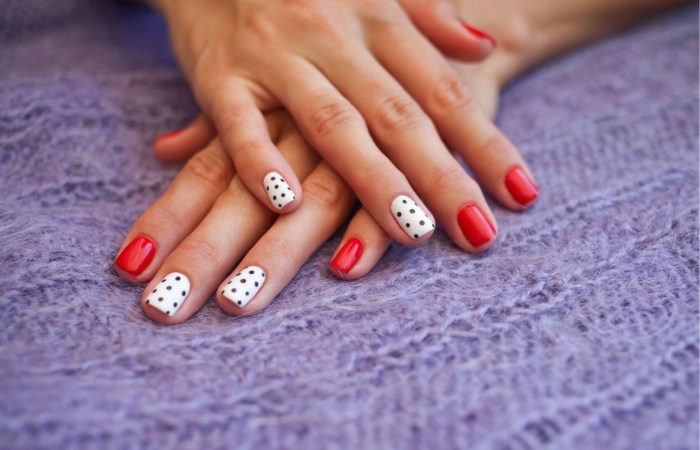 If you like simple, short nail designs, you can show off a different design whenever you paint your nails. Take note of these decorations with nail art.
Decoration with Dots
You will like this nail art if you are not good at decorations and find taking advantage of short nails challenging. You must choose two colors, one for the base and one for the points.
Polish your nails with the chosen color.
With the help of a fine brush or a stylus, you have to draw dots with the other polish on the nail you choose.
Protect the design with a coat of shine.
If your nail is very short, we advise you to make three points from most significant to least thickness, starting at the base in a straight line and going to the free edge. In this way, the effect that will be created will be that of a longer and more stylized nail.
And if this is the first time you are giving color to your short nails, our article How to paint short nails will be handy; we give you tips and tricks to make them look longer and not go off when painting them.
Nails with Bows
A design for short nails that is very easy to do is to decorate one or two nails on each hand with a nice bow. To do this manicure, you only need to follow these steps:
Paint your nails with a white polish or a striking color like fuchsia or turquoise.
To draw the bow, you must paint two lying triangles and mark a point in the center to join them. You will have this simple decoration for short nails ready.
Be sure to visit our Easy Nail Designs article to find more photos of nails with super simple and quick options.
Nail Art with Newspaper
What do you think of this print with newspaper letters? It is ideal to do it at home and surprise everyone with a more than-original design.
Cut 10 small pieces of newspaper, one for each nail. The size will be necessary to cover each nail.
Paint your nails with a clear polish; we recommend using white or nude polish so that the effect of the letters stands out. Wait for the nail paint to dry.
Pour alcohol into a bowl and insert a fingernail inside for about 10 seconds (if you do it one at a time, it will be easier).
Remove your finger from the liquid and cover the nail with newspaper.
Press for 15 seconds and remove the paper.
To finish, you can add a layer of top coat to protect the decoration.
Animal Print
The animal print is a classic that always looks good and combines with everything. To show it off, paint your short natural nails with a light or nude-type background and draw the spots in brown or khaki. The moles should be irregular. You don't have to try to make them all the same; the more irregular, the better. To finish, go over each stain with a fine brush with black polish. You don't have to border the stain completely; mark it somewhere.
Rainbow
If you like colorful nails, we suggest this design with rainbow colors. Paint a base with black polish. Next, make dots following a line that starts at the base and ends at the edge. You must paint each dot with one of the colors of the rainbow. You can vary this design and decorate your short nails with lines of rainbow colors.
Watermelon
It is a fresh decoration ideal for summer and perfect for decorating short nails. It would help to paint your nails a hot pink color similar to watermelons. When it dries, paint small dots simulating watermelon seeds with black nail polish and a fine brush. You can draw the green border in the area attached to the cuticle if you dare. You will have beautiful short nails without much effort!
Clouds
It's a fresh deco with a naive touch. To show off this design on your short-painted nails, you have to paint your nails with a light blue polish. When it dries, draw some clouds with white polish and the help of a brush. If you don't know how, you must dip the circular part of a hairpin in white nail polish and draw circles glued between them, giving it the shape of a cloud.
Sheet
Doing this manicure for short nails is a little more complex, as you will need an excellent brush. If you have it, follow these steps:
Paint your nails white.
Next, draw a line that crosses the nail diagonally with green nail polish and a thin brush, creating a slight curve.
On each side of the line, draw curved stripes that simulate the leaves of a palm tree.
You can give the leaves any shape you want.
Elegant Short Nail Designs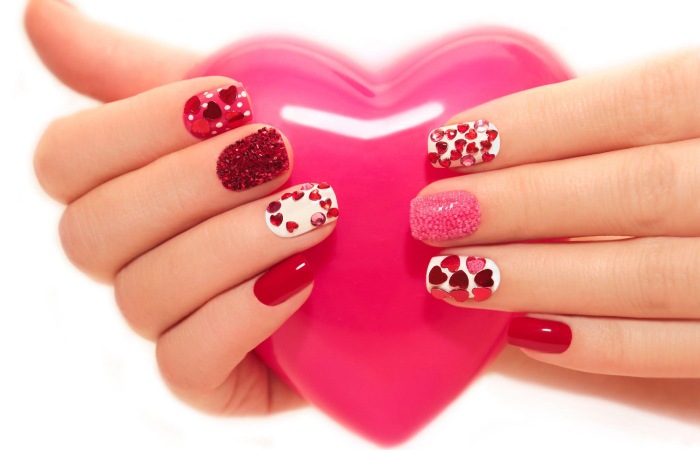 The French manicure is a classic that never fails. This is your option if you have short nails and want a simple and elegant design. Here are some variants of the French for short nails.
French manicure
The French manicure on short nails can be a great option to show off nails with an elegant and chic design.
Apply a light pink or nude polish for the base.
Once dry, paint the edge of your nails with a white polish.
Finally, apply some glitter to protect the polish; your short French nails will look gorgeous!
In addition to the classic French manicure, you can take risks with French designs in more daring colors. Of course, if you are looking for a style of elegant short nails, the classic one is a sure hit.
Red Manicure with Flower
If you like to have short decorated nails but avoid overloaded styles that don't look good on short nails, you will like this simple flower decoration. You only need an elegant polish as a base (red), white, and yellow polish.
Polish all your nails with red.
Dip a fine brush, a stylus, or an orange stick in white enamel and paint 4 dots simulating the petals of a flower.
Make small dots in the center with another fine brush, simulating the flower's stamens.
Matte and Rhinestones
Paint all your nails with a matte black polish. Apply a stone to the base of each nail or only to the ones you choose. The contrast of the matte nail polish with the shine of the rhinestones gives an exquisite touch to the nails.
Design with Ribbons
Try these short nail models if you are not very good at designs. It involves sticking thin adhesive strips on the nails, forming a geometric design. Paint without fear with the chosen colors and, when dry, remove the stickers. If you don't have stickers, you can try to make this elegant short nail design with a thin brush.
Closed Eyes
If you have little time or designs, a straightforward and elegant decoration is not easy. Paint your short nails with a nude base color. Draw a black line that simulates a closed eyelid. Below this line, paint 3 small stripes that look like eyelashes. It is effortless but elegant nail art. You can give it a modern touch by making other designs on the rest of the nails, as you can see in the photo.
Short Nail Designs for Girls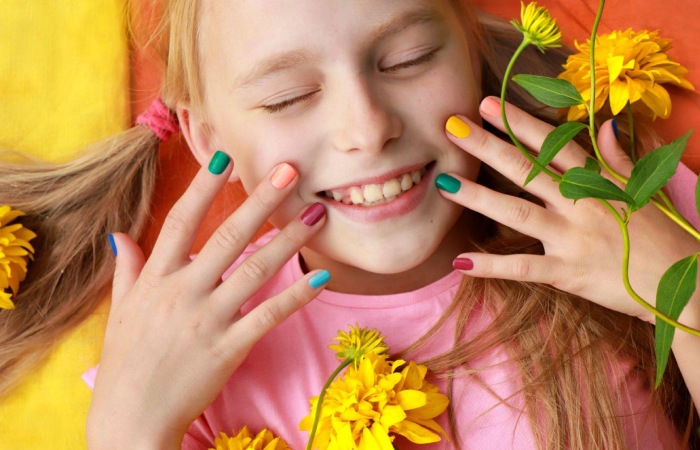 If your daughter wants to wear decorations on her nails, but you don't know what designs to make that are easy and appropriate for a girl, check out these nail art options.
Nail Art with Lines
Simple and adaptable to the small size of girls' nails. Paint the background with your favorite color and draw some horizontal or vertical stripes in another color that stands out from the previous one, and that's it! To give it a more fun touch, you can vary the design on each nail and add white dots.
Children's Stickers
Stickers are an effortless way to wear nail art on your nails. It would help if you chose a nail sticker with a children's design or your daughter's favorite character. Stick the sticker on the nail and apply glitter to the set.
Mickey Mouse
Nail designs with Disney characters are ideal for girls, but the difficulty of these decorations makes it impossible if you are not a professional. At unCOMO, we want to show you this effortless Mickey nail art for short nails you can do for your daughter.
Paint your nails any color you want. Next, with black polish and the help of a fine stylus or brush, paint two small circles that will be the ears and a larger circle below them for the head. The silhouette of Mickey's head is so recognizable that these three points will be enough for the most accessible Disney design.
Smiley
Do you know the typical smiling face with a yellow background? Well, it is a straightforward design that you can do on your daughters' nails, even short ones.
Sol, you have to glaze it with a yellow base. Next, draw two points: the eyes and a smile underneath. It couldn't be easier! If you don't want to use a color as striking as yellow, you can do this design for short nails decorated with black and white or pastel colors.
Kittens
Paint your nails a light color, like pink or white. Take black nail polish and a fine brush, and draw two open triangles for the ears, with two points below that will be the eyes. You have to draw the nose and the lines for the mustache, and you will have your cat design.
Chick Nails
It is a fun and accessible design, perfect if you are looking for short nail designs for girls. Follow these steps!
Paint your nails yellow.
Draw the eyes with a brush and black polish.
Below these, paint a triangle in orange, and you already have your little chick on your little one's nails.
ladybug
A design that girls like. It is a design that simulates the shell of a ladybug. To do this, paint your nails red and draw some dots all over the nails with black paint. You can help yourself with a punch or a hairpin.
Dog Footprints
How about drawing your pet's paw prints on your daughter's nails? Paint your nails with any color you have at home. Draw 3 small dots (side by side) with black polish and a larger circle underneath. Your daughter will be proud of her cute dog paw design.
Panda
This design won't be complicated if you draw just the panda bear's face. Paint a nude or transparent background. Draw a large circle with white polish. Paint the ears and two medium circles in the eye area with black paint. Inside these, paint two small eyes with white polish. All you need to do is add the nose and mouth, and that's it!
Short Nail Designs Decorated with Stones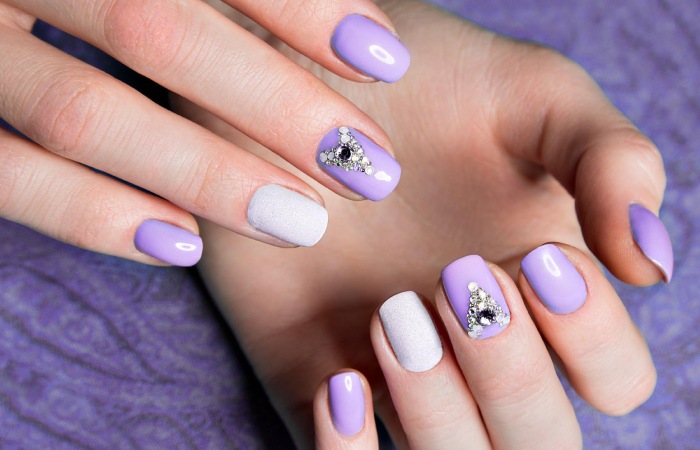 If you like designs that are a little more loaded or include other elements, such as stones or rhinestones, don't miss these designs that may inspire you. Plus, they're perfect for wearing short, false, or gel nails.
Design with a Stone
This is an easy and perfect stone decoration to show off on a short nail. You must polish your nails in your favorite color and place a stone next to the cuticle area. Glue a stone on each finger using nail glue.
Line of Stones
For this nail art with stones, you must paint all your nails except the two in the center (middle finger and ring finger) with glitter or glitter polish. Polish the two central nails in a matte color that combines with the previous one.
Place 3 stones in a line starting from the base towards the edge of the nail. It would help to place them on the fingers you painted with matte nail polish.
Stone Curve
This short nail design is only done on one nail of each hand so as not to overload the design. It involves applying stones to the nail of your choice, forming a curve that follows the natural line of the cuticle. You must stick the stones to the cuticle without touching or sticking them on top.
How to Care for Short Nails?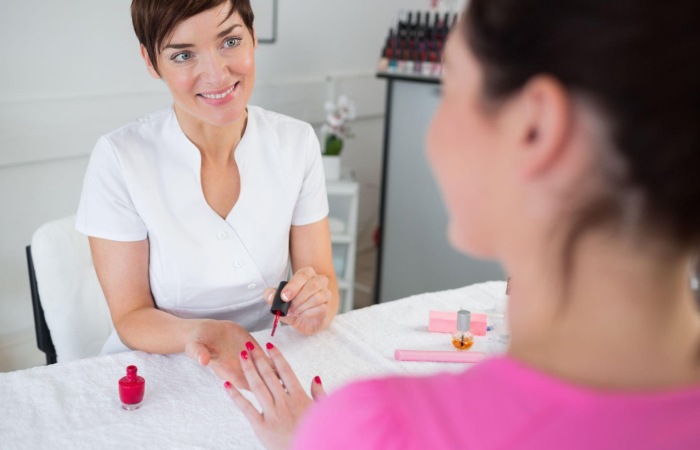 Nails, whether long or short, need unique care, just like hair or skin. And to keep them strong and healthy, using only quality products in terms of enamels is not enough. It is also essential to have a healthy diet rich in vitamins and proteins.
So that when the cuts do not break, you will have to soak them in oil for a few minutes or, on the contrary, do it right after showering. This way, they will be moist and won't break as easily. Then, file them, but always following the same direction to prevent them from splitting.
After the previous step, use a nail strengthener, as this cosmetic increases its resistance and promotes healthier nail growth. On the other hand, try to avoid cutting the cuticles because these protect the birth of the nails by preventing dirt from entering. Also, don't forget that your hands also need regular hydration. You must apply a specific moisturizing cream twice daily for this area.
Related Article: Why Lines on Nails, and How It Remove?
Related Searches to Short Nail Designs
short nail designs
short nails
cute short nails
short nail ideas
trendy nail designs for short nails
nail designs for short nails
short nails ideas
cute nails short
short cute nails
short simple nails
pretty nails short
short manicured nails
nails design short
short nails styles
cute nails ideas short
simple short nails ideas
nails shorts
short nail art
simple cute short nails
easy short nail designs
simple nail art for short nails
nail styles for short nails
nail art designs for short nails
cute designs for short nails
designs for short nails
short nail idea
nail short designs
nail design for short nails
small nails ideas
short nail inspo
manicure ideas for short nails
nail inspo short
nail art ideas for short nails
easy nail designs for short nails
manicure for short nails
short nail art designs
manicure short nails
easy nail art for short nails
manicures for short nails
short nails inspo
short manicure ideas
nail design ideas
summer nails short
short square nail designs
short nail designs 2023
summer short nail designs
acrylic nail ideas short
cute short nail ideas
simple short nail ideas
simple short nail designs
short acrylic nails designs
short nail ideas acrylic
nail designs 2023
short nails designs
nails designs short
small nail designs
cute nail ideas short
simple short nails
short summer nails
nails ideas short
summer short coffin nails
summer nail designs for short nails
cute nail designs short
cute short nail designs
simple nail designs short
short nail design ideas
short acrylic nail ideas
cute short nails designs
nail ideas short
nail designs short
acrylic nail designs short
simple nail designs for short nails
short acrylic nails ideas
short nails idea
nail art for short nails
short cute nail designs
spring nail designs for short nails