How To Dress In Winter?
Winter Outfits- in winter, when the temperatures are low, or even negative, one of the first reflexes of human beings, is to pile up layers of clothing to design natural armor against the cold. If some then opt for layering (or the human sandwich ), others will prefer to move towards technical materials or naturally insulating materials… One thing is sure, to fight effectively against the coldness of winter, the solution remains to cover yourself well. Only, if turning into a real trapper is not to everyone's taste, know that it is quite possible to dress elegantly, even in winter. Here, we will give some tips to face the big cold without putting aside our style. The materials to favor, the mastery of layering or even some tips for dressing well, and our look ideas for the season.
Winter Outfits  – Casual-Chic Outfit In Winter
The Caban To keep a dressy spirit, you can choose a pea coat, a duffle coat, or even a woolen trench coat. The question of the parka can arise and be an exciting alternative if it is a simple and refined model.
The Wool Sweater In a somewhat formal work environment, we will be satisfied with plain models or discreet patterns, such as mottled or mouliné wools with a collar wide enough not to harm the appearance of his shirt. We will favor natural fibers, such as merino wool or cashmere. We can also choose it in the form of a cardigan.
Trousers The pants also allow him to explore other universes. Depending on the degree of formality desired, wearing thick chinos or sober jeans (raw/black) will be an option. If we choose it in wool, we can dare to be fancier with checkered models. Wearing your suit pants without the jacket is also possible.
A Pair Of Boots  In this kind of more casual outfit, the pair of boots is one of those essentials to keep your feet warm in winter weather! There is not necessarily a strict rule: we adapt to the degree of formality required in terms of their elegance. We will make sure to choose them in leather and with a sole that is not too thin.
The Accessories
We have more freedom here. On the hands, we will favor leather gloves in the color of the shoes. And to spruce it all up, a scarf will be welcome and a bag for the business side.
How And Why Stack Layers Of Clothing In Winter ( layering )?
As will announce in the introduction, one of the most effective solutions to fight against the cold is to opt for layering. It is the practice of stacking several layers of clothing. Generally, we will play on materials and textures to bring character to our silhouette. The goal is to assemble pieces that will easily fit together.
The first piece you wear is always lighter than the other pieces. The "game" will be to stay on the same shades of colors and start from the most delicate layer towards the darkest. However, you will have to be careful not to feel too cramped in your clothes like kurta. You know the thermal regulation capacities of the pieces you want to wear take on their whole meaning here. One of the layers that work best in winter is the following: wear a knit as the base (turtleneck or round neck sweater), then above it a light jacket ( denim jacket or work jacket) that you will wear under an overcoat (or a parka).
Layering shows common sense: you don't put a shirt over a sweater (unless it's an overshirt or a thick shirt). On the other hand, we will wear a t-shirt, a shirt, and a wool sweater. The more layers you wear, the less air will pass. Indeed, let's say we only wear one coat. In this case, the hot air surrounding our body will tend to escape through the top, bottom, and sleeves. The role of these different layers is to keep the air inside, which will help regulate our body temperature more effectively.
Winter Outfits  – Materials Favored In Winter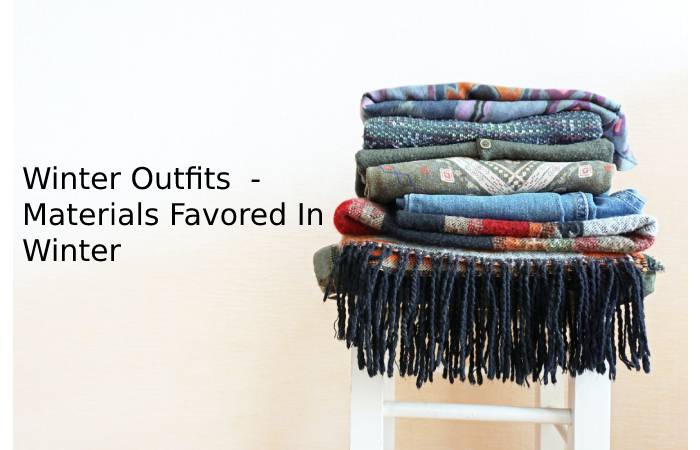 The most important part of this theme is undoubtedly that of the materials to be preferred. Let it be said, a cotton coat (the thickest it is) will bring us less heat than a woolen model (and less dense). Again, it's about thermal regulation. First of all, it is essential to focus on the composition of your clothes. Thus, we will favor natural materials but also certain synthetic fibers. The subject of materials is discussing  at length in our article
How to choose a sweater or a cardigan, and  How do you choose a winter coat?
This is not a point that we will deal with here in detail. However, if it is still unclear to you, we invite you to consult these without further delay. Knowing the materials that make up our clothes and their attributes will give us a clear idea of the pieces to favor in winter:
Conclusion
Winter outfits are meant a set of clothes, accessories, and shoes. We are talking about wedding, chic, back-to-school, or work outfits. These are composed sets to correspond to a particular event or situation in all cases.
Also read: Diwan Set For Home –  Definition, History, Description, and More