Since the 16th century, watches, especially gold watches for men, have been a luxury item with much greater sentimental worth than just telling the time. Since they gained popularity during the mid of the 20th century, gold watches for men have become a necessary piece of accessories that every man needs in his collection. Even in modern times, they are perceived as a symbol of power and prestige. And, unlike a regular watch that may not hold much value in the long term, gold watches for men maintain their worth and lustre over time.
These elegant and luxurious timepieces are designed to be worn for years to come and later act as a family heirloom and gift for generations to come. They make for a thoughtful gift, and when you receive premium and elegant gold watches for men, you know that the person gifting you the timepiece truly understands your sense of style. Like you, every timepiece has a distinct personality, whether it's a sleek chronograph with a leather strap or a classy rose gold watch with a chain strap.
Tale as Old as Time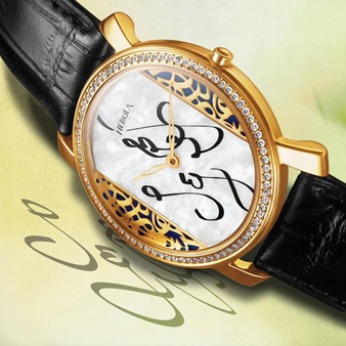 The gold watches for men from the Calligraphy collection draw inspiration from the elegant and intricate styles of the ancient Indian script – Modi. This timepiece here showcases a double-layered dial elegantly resting upon a regal blue base adorned with a perforated gold Jaali design. The dial itself showcases the iconic Modi calligraphic script, encased in solid gold and adorned with 80 VSI diamonds. It is a visual representation of the universe narrating its own tale. It is a design to be treasured and passed down through generations.
Timeless Treasures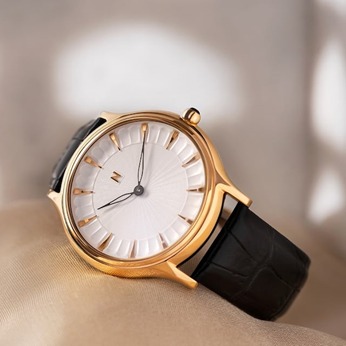 The gold watches from the Deccan Treasures collection draw inspiration from the magnificent architecture of the Deccan era. These gold watches for men celebrate history etched in time. This timepiece – Farzin – is inspired by the inverted dome architecture of the royal halls, with custom lugs that mimic the pillars of those halls. With an Onyx sitting at the crown of the watch, the timepiece is an example of the finest craftsmanship that exudes sophistication, richness, and class.
Elegance Reimagined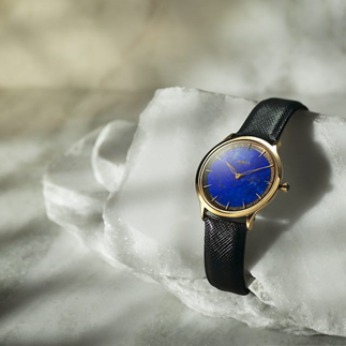 Another timeless piece from the Deccan Treasures collection, this watch features an intricately cut Lapis Lazuli dial and lugs inspired by the hilt of royal swords from the Deccan era. What makes such gold watches for men special is their Lapis Lazuli dial. The gemstone has long been revered by civilisations for its brilliant blue shade. Lapis Lazuli is often associated with royalty, wisdom, strength, and courage, which makes it the perfect representation of a man's power and prestige in society.
One of the Classics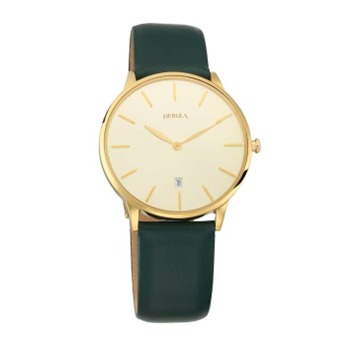 Minimalism never goes out of style, and this watch is proof of that. These gold watches showcase a striking design that is an effortless display of classic, minimal elements. Every detail of this timepiece reflects the utmost dedication to perfection. The pristine white dial with sleek gold hour markers and hands creates a harmonious and refined aesthetic. And the deep green calf leather strap adds just the right hint of modernity to the classic design of the timepiece.
Gold watches for men not only represent power and prestige but also reflect personal style. While fashion trends may evolve, investing in timeless premium watches is always a wise decision. However, before choosing a timepiece that captivates you, it is essential to select a reputable brand that guarantees the value of your investment. When it comes to trust and quality, Titan stands out. With their extensive collection of gold watches for men, you can be confident in finding a timepiece that catches your attention and meets your expectations.