Definition
Types Skin Foundations: That means face foundation will Apply to the skin to Increase the natural fairness to artificial. It will be uses according to skin color, complexion, or skin tone.
Types of Skin Foundations – Skin Tone Type
The basis of successful makeup, the foundation comes in different formulas: fluid, cream, stick, mousse, or simply compact. All these variants have the same qualities: camouflage of imperfections, skin texture refinement, and complexion clarification.
For natural makeup, you won't find better! Sold in a tube, this foundation is excellent for caring for the skin. Rich in moisturizing, sheathing and anti-wrinkle substances, it conceals skin imperfections.
There are two types of fluid foundation: mattifying fluid and moisturizing fluid. The first is for oily skin: it offers a matte appearance and a velvety touch to the complexion. The second is made for all skin types: it illuminates the face and gives it a satiny appearance.
Mousse foundation
This foundation is suitable for all skin types and brings a natural effect to makeup. It combines lightness and practicality thanks to its light powder gel-based texture. That is easy to apply and immediately blends with your skin color. It provides a pleasant sensation and gives the skin a velvety appearance.
This product is the ally of sophisticating  makeup. It hides imperfections with a thick texture and admirably evens out the complexion. It is also recommends for women who have rosacea or diffuse redness.
There are two types of compact foundation: the cream and powder versions. The cream version is apply with a sponge and offers a smooth touch. The powder version offers a velvety effect and is suitable for oily-prone skin. It is ideal for combination to dry skin.
Stick Foundation
The most practical and the easiest to use! This product is intended for dry and normal skin. Thanks to its mixture of cream and powder particles, it  will apply directly to the skin. You can take it anywhere and use it for minor touch-ups.
The Tinted Cream
It is a product that combines discretion and lightness. Although it is less covering than the classic foundation, it has the tone to perfect natural makeup. Thanks to its content of hyperlipidemic and treating agents, it can be the substitute for a day cream.
Types of Skin Foundations – Tips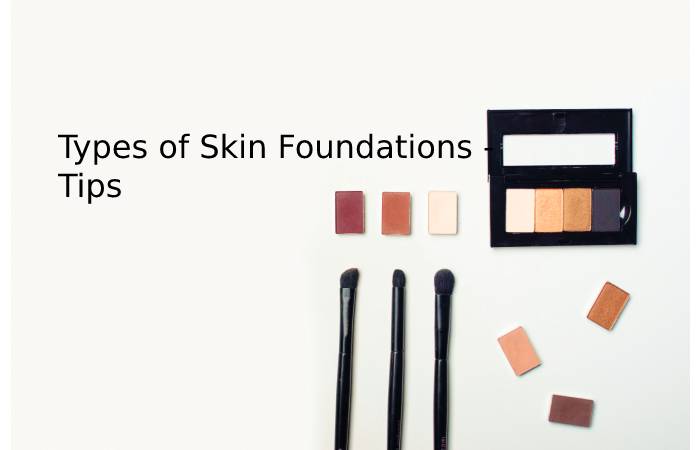 Which foundation texture should I choose for my skin type?
The foundation is the basis of perfect makeup. To choose the proper foundation for your skin, whether oily, dry or in combination, here are some practical tips. Cream, powder, mousse texture, coverage, hold…
As a cream for dry skin
Powder or liquid for oily skin
In foam or BB cream for normal to combination skin
A covering foundation for problem skin
The choice of a foundation is made according to our desires and, above all, our skin type.
The goal? Avoid having an unnatural result with a product that is unsuitable or even contraindicated for oily, dry, or combination skin.
As a cream for dry skin
Dry skin must be sufficiently hydrate to maintain its suppleness. Cream foundations are perfect for nourishing the epidermis while enhancing the face.
The cold is particularly aggressive for the skin during the winter, so we do not hesitate to opt for formulas enriched with oil. Brush application is ideal for this type of foundation and skin, as it allows moisturizers to penetrate the epidermis better. For this, we take a little material and then stretch it from the inside to the outside of the face. Dry and sensitive skin can opt for the silicone sponge or the Beauty Blender, easy-to-grip applicators. Foam textures are not recommended because they are drying. Similarly, powders are not suitable for dry skin because they may cause plaques.
Powder or liquid for oily skin
Oily skin can turn to a "non-comedogenic" mattifying product to eliminate shine. On the other hand, oily formulas should be avoiding too nourishing, they may aggravate the phenomenon or even promote the appearance of pimples. Fluid textures with a matte finish are ideal because they are comfortable and easy to use. For a very natural look, we love mousse foundations. Very light, they are pleasant and make it possible to unify the skin with transparency. Compact powders are also perfect for correcting imperfections and masking excess sebum.
What is your skin tone?
When choosing makeup, it's essential to know your skin tone. But how do you know what your skin tone is? What should you pay attention to? And what should you choose if you have a neutral complexion with spots or redness? We help you.
Identification of your complexion
Skin tone is the warm, cool, or neutral color that shines through the skin of your face. Although the color of your face changes with exposure to the sun or due to skin conditions, such as rosacea or acne, your skin tone remains the same.
How is the foundation made?
Its composition. Its base: is talc, and it contains a dye that also acts as a UV filter, titanium dioxide. I will focus on the guests we'd miss among its 12 ingredients. The first intruder for me is silicone oil (dimethicone).
Conclusion
Foundation Skin is a neutral-toned base intended to even out skin imperfections and create a blank canvas for makeup application. Foundation is available in many different formulations, including liquid, cream, and powder, and can be costuming for different skin types. Choosing the proper foundation depends on your skin tone, texture, and desire level of coverage.
Also read
Best Moisturizer For Normal Skin –  Definition, Normal Skin Moisturizer, Tips for skin, and More